It's close to the end of summer and that means the beginning of school is right around the corner! Getting ready for back to school can be pretty daunting to parents because of the long to-do list. One thing that should be on your list that we help make easier is a  free youth heart screening! Just like any yearly physical, a heart screening is just as important to have. (The American Heart Association recommends screenings for SCA be performed every 2 years for ages 12-22).
Last month, we were able to partner with Walgreens in North Texas and raise money to provide free screenings this summer. Heart screenings are now being offered at four Walgreens locations in North Texas! If you're not sure whether your child should get this screening the answer is simple: YES! It's a noninvasive screening that only takes about 20 minutes, it's free, and it could help save a life!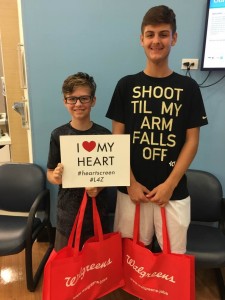 The "Living for Zachary Heart Screening" is a special screening program created and provided by The Heart Hospital Baylor Plano for youth ages 12-22 that can help detect abnormalities that may lead to Sudden Cardiac Arrest (SCA).
A Living for Zachary Heart Screening includes:
Electrocardiogram

Limited screening Echocardiogram

Blood pressure screening

SCA Rish Health Questionnaire (AHA recommended)

Screening reviewed and interpreted by a board-certified cardiologist
We are so grateful to be able to partner with Walgreens in not only collecting donations but also allowing us to provide heart screenings in their stores this summer. To make an appointment for a youth heart screening, you can visit the student heart screenings website. These screenings are free and any child between the ages of 12-22 are eligible to be tested. Don't wait too long, hurry and make your appointment today!
Thank you to everyone who participated and helped us raise the funds to help provide these back to school heart screenings!