The Living for Zachary blog has a special treat for our readers this month! We have invited a guest blogger to join us and grace us with her foodie knowledge. The Gordon's are supporters for Living for Zachary and served as our physician chairs at our 2016 HeartBeats Gala. We are so thankful for everything the Gordon's do for us and our mission! We hope you enjoy their blog as much as we do!
Hi, my name is Erin Gordon and I have the privilege and honor to be married to Dr. Bruce Gordon, an Interventional Cardiologist with Advanced Heart Care in Plano, TX. Heart disease is the number one cause of death in the United States and the Standard American Diet (SAD) is a major contributing factor.
Throughout the last 18 years, many curious people ask us what we eat, why and how sometimes, lol.  Because we have access to all the latest and greatest information in the cardiovascular community and an inside look at how devastating heart disease is, we have been compelled to make changes.   What Bruce does for a living has directly impacted what we choose to eat.  We've come to know when you EAT REAL FOOD there are REAL BENEFITS.  Let's take a look at a day…
For breakfast, a bowl of homemade granola with almond milk.   Or just a handful of raw almonds.
Mimi's Famous Granola adapted from Adele Davis
5 c. rolled oats
1 c. each:
Sesame seeds
Unsweetened coconut flakes
Sunflowers seeds
Almonds
Soy flour
Wheat germ
Optional, add-ins:
½ c. chia seeds
½ c. hemp seeds
½ c. ground flax seed
1 c. pumpkin seeds
Blend above, then add 1 c. each:
Water
Honey
Oil
Mix and then spread onto 2 cookie sheets, lightly pat down.  Bake @ 300 for 25 mins. Then using a spatula flip the granola and bake another 25 mins.  If you like it crispier, add 5 min.  Store in a covered container.
For lunch, a loaded veggie sandwich with hummus and kale chips.
Hummus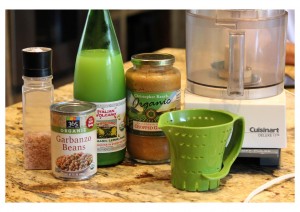 Put the following in a food processor (easier) or blender:
I can of garbanzo beans aka chick peas, drained and rinsed
1T. garlic, minced
1T. lemon juice
Pinch of salt
1T. tahini (pureed sesame seeds), optional
Pulse a few times, then while in the 'on' position, stream between 1/4c. and 1/3c. olive oil until you get to a smooth consistency.  Each ingredient above is to taste.
Optional mix-ins:
Sun-dried tomatoes
Black olives
Jalapenos
Artichokes
Kale Chips
Kale leaves, rinsed, dried and torn to a preferred size
1 T. olive oil
Salt, to taste
1 T. of any seasoning of your choice. Today, I used cumin.
Preheat oven to 325 degrees.  Place parchment paper on a cookie sheet, spread out the leaves in a single layer and sprinkle with seasonings of your choice.
Bake for 15 minutes, sample a chip.  If you'd like them crispier, bake for 5 more minutes.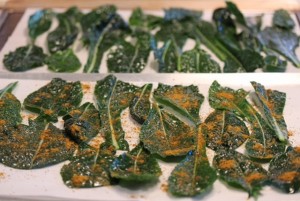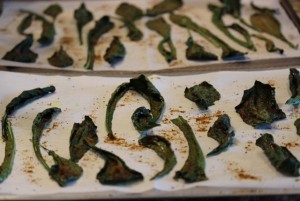 Now, it's time to assemble the sandwich.  First, toast an Ezekiel brand sandwich bun, then slather on a thick layer of hummus, then layer cucumber slices, shredded carrots and top off with alfalfa sprouts.  Serve with kale chips.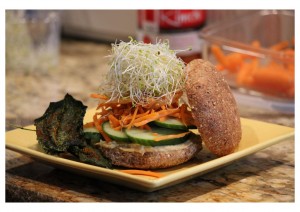 For dinner, the 5-Star Rice and Beans recipe
The Prevent and Reverse Heart Disease Cookbook by Ann Crile Esselstyn and Jane Esselstyn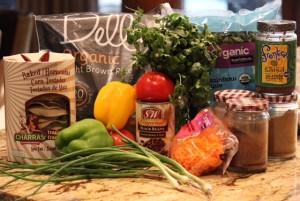 Make & eat a huge mound for dinner, layer like this:
Brown rice, make according to package
Black Bean Mash=In a sauce pan, put 2 cans of beans, drained and rinsed then add 1t. cumin, 1t. garlic powder, 1/2t. chili powder + ½ c. salsa.  Heat together and then mash.
Next:
3 c. kale, bite sized pieces, blanched
1 c. frozen corn, thawed
1 each red, yellow and orange peppers, diced
5 green onions, diced
3 tomatoes, diced
1 c. carrots, shredded
1 bunch cilantro, chopped
1 jar of your favorite salsa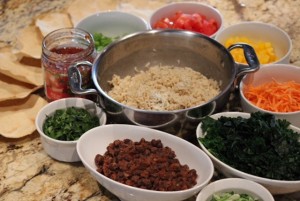 Serve with corn tostados.  Enjoy!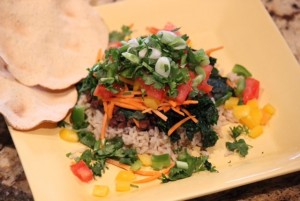 Every day Bruce and I strive to eat colorful, fresh food.  Food that covers every color of the rainbow.  How many colors from the rainbow have you eaten today?  Become aware of what you are or are not eating, then begin to add a new color.  EAT REAL FOOD, ENJOY REAL BENEFITS!